Rye Smile Caricatures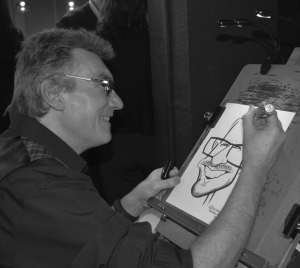 Rye Smile Caricatures are Kevin and Jill Rye, a husband and wife team based in Seaton, East Devon. Drawn 'Live' at events as fun entertainment for guests or as 'Commissions' from photos as presents.
Kevin is a highly skilled top UK caricature artist and Jill has a great way with people, manages queues and takes photos (with their consent) of guests with their caricatures. Live caricature entertainment guarantees laughter – with big smiles, big teeth, big noses and then there are the drawings!
Phone Number: 07760 325643
Email: kevin.rye1@gmail.com
About Seaton, Devon
Seaton is the only gateway town to the Jurassic coast where rocks from all three geological periods can be viewed in their natural environment: fossil bearing Jurassic rocks to the east, the vibrant Triassic cliffs just before Seaton harbour and the striking white outcrop of Cretaceous chalk cliffs of Beer.